This is a bluebell hat fit for a toddler of about 2 years (although it will fit me). Since the feather and fan pattern is based on 17 stitches, I'd recommend using a thinner yarn for downsizing.
Materials
Main colour: light purple aran weight yarn, I used leftover Wolle Rödel Merino. The finished hat weighs 58g, so that may make it just a tiny bit over one ball - if you don't have more than one ball, just shorten the ribbing section
Contrast colour: leftovers of green aran weight yarn for the stem and leaves. I used Lang Yarns Merino Plus.
80cm 5mm needle, or dpns, if you don't like magic loop
Gauge: 17 st x 28 rows = 10 cm
Instructions
Hat
Chart 1:

CO 85 stitches. K 1 row, then join in the round. Start feather and fan pattern (Chart 1). Repeat pattern 3 times. Then start the ribbing, first bringing the number of st down to an even 80 by doing the decrease round (Chart 2). Continue knitting k6, p2 rib for about 32 rows or about 11 cm (4.5 in). Shorten the ribbing section if it looks like you'll run out of yarn soon :).
Chart2:

Start the crown decreases:
Dec row 1: K3, ssk, k1, p2 around. (70 sts)
K 1 row.
Dec row 2: K3, ssk, p2 around. (60 sts)
K 1 row.
Dec row 3: K3, ssk, p1 around (50 sts)
K 1 row
Dec row 4: K3, ssk around. (40 sts)
Switch to CC (green) and begin seriously decreasing for the stem:
Dec row 5: K2, k2tog around. (30 sts)
Dec row 6: K1, K2tog around. (20 sts)
Dec row 7: K2tog around. (10 sts)
Dec row 8: K2tog around (5 sts)
Continue in i-cord on remaining 5 stitches for about 1.5 cm (0.75 in), then cut off yarn, thread through 5 sts and draw tight.
Leaves
Chart3: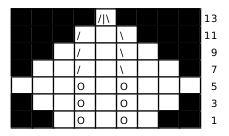 Using green yarn, make one big leaf by following Chart 3 and a small one by following Chart 3, leaving out rows 5 - 8 (so you only have 2 yo rows and 7 sts at most). Note that the chart shows only odd rows, the even ones are just plain purling.
Finishing
Weave in all ends. Sew leaves to top where they look cute. Place on toddler or baby car in vicinity and smile :) If you have a very small baby, you can add ties by braiding some green and purple yarn through the center 2 of the petals (keep one petal in between, that's the back!). Toddlers may keep the hat on, if you're lucky and keep taking pictures.